Iran fires 22 missiles at America
UK Today Live
News / International / Iran
Wednesday 8 January 2020 07:53, UK
Iran has fired 22 ballistic missiles against two Iraqi bases housing US and coalition troops.
The Islamic Revolutionary Guard has confirmed it launched the attack targeting the Erbil and Al Asad bases in retaliation for last week's killing of Major General Qassem Soleimani in a US airstrike.
US and Iraqi officials have said there are no immediate reports of casualties – though buildings are still being searched – and the Ministry of Defence has confirmed that no UK personnel were affected.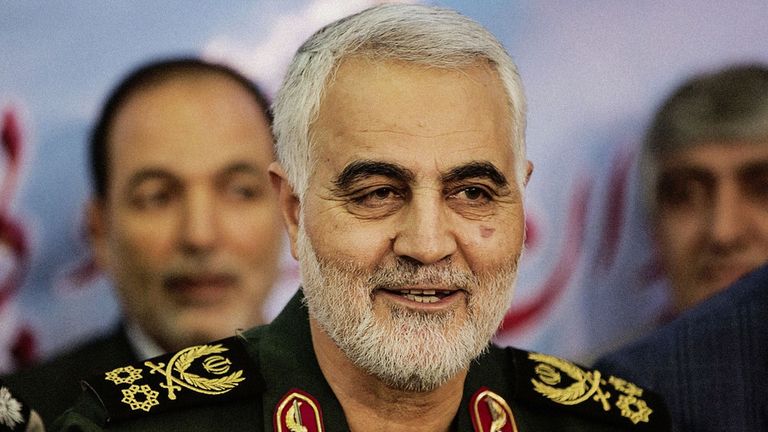 Other coalition partners – Germany, Denmark, Norway and Poland – also said none of its troops were hurt.
Iranian state television has described the ballistic missile attacks as the "first step" – with a Revolutionary Guard commander warning that Tehran will not spare American troops.
A presenter on Iranian state TV has claimed – without offering evidence – that the strikes have killed "at least 80 terrorist US soldiers" and also damaged helicopters, drones and other equipment.
On Twitter, the country's foreign minister Javad Zarif said: "Iran took & concluded proportionate measures in self-defense under Article 51 of the UN Charter targeting base from which cowardly armed attack against our citizens & senior officials were launched. We do not seek escalation or war, but will defend ourselves against any aggression."
Reacting to the missile attack, Mr Trump tweeted: "All is well! Missiles launched from Iran at two military bases located in Iraq. Assessment of casualties & damages taking place now.
"So far, so good! We have the most powerful and well equipped military anywhere in the world, by far! I will be making a statement tomorrow morning."
Iran's President Hassan Rouhani struck a more defiant tone – saying that while Washington may have "cut off Soleimani's arm", Tehran will respond by "cutting off your leg" in the region.
After the strikes, a former Iranian nuclear negotiator posted a picture of the Islamic Republic's flag on Twitter, appearing to mimic Mr Trump, who posted an American flag following the killing of Maj Gen Soleimani last Friday.
the risk of the US and Iran sliding into a direct war is more acute now than at any time in the last four decades.
A US government statement said: "It is clear that these missiles were launched from Iran and targeted at least two Iraqi military bases hosting US military and coalition personnel at Al Asad and Erbil.
"We are working on initial battle damage assessments.
"These bases have been on high alert due to indications that the Iranian regime planned to attack our forces and interests in the region.
"As we evaluate the situation and our response, we will take all necessary measures to protect and defend US personnel, partners, and allies in the region."
More than 5,000 US troops and 400 British soldiers remain in Iraq, along with other foreign forces, in a coalition that has trained and backed Iraqi forces against the threat of IS militants.